The MSP S.H.A.R.T is an ultralight Single Handed Advanced Refuse Trowel made from Titanium. Its the best tool for digging cat holes, scraping a clean spot for your tent and maybe even for self defense. Its the ultimate ultralight backpacking shovel. You can get it in Silver, Blue, Matte Titanium or 'Plasma Pootina'.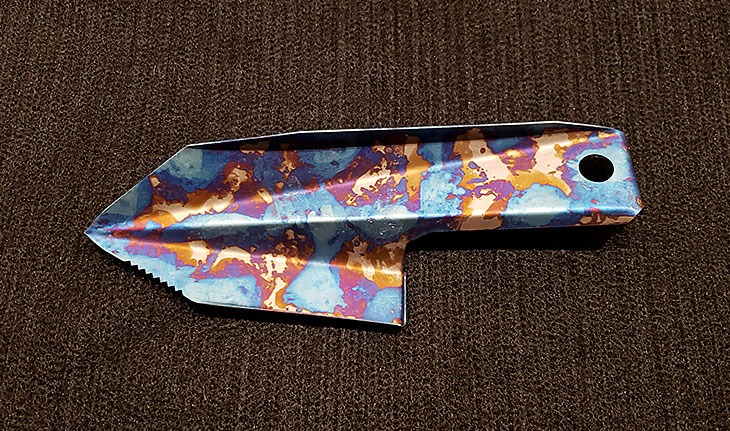 The problem is that we have to bend it by hand, and it takes a long time to make one, and we already have one so we're good... but you don't, and you probably want one... so we need some extra encouragement if you'd like one. Let us know in the comments below if you're interested. If we get enough comments, then we'll go out into the cold, dusty, messy, misserable, shop and bend up a batch... I guess... if we have to... They're $20 ea. for standard, $25 for long.
---
The MSP S.H.A.R.T is a super tough ultralight titanium trowel that makes digging a hole to do your business in, almost effortless!
If you've ever been backpacking, you know what a pain it can sometimes be to dig a cat hole to do your business in. Many times the ground is hard or rocky and full of roots, and trying to dig a hole with a stick or a tiny, blunt trowel can take longer than you can hold it! That's why we created the S.H.A.R.T. 'Single Handed Advanced Refuse Trowel' made from Titanium. Its super tough and ultralight and it makes digging a deep cat hole as easy as passing camp chili gas!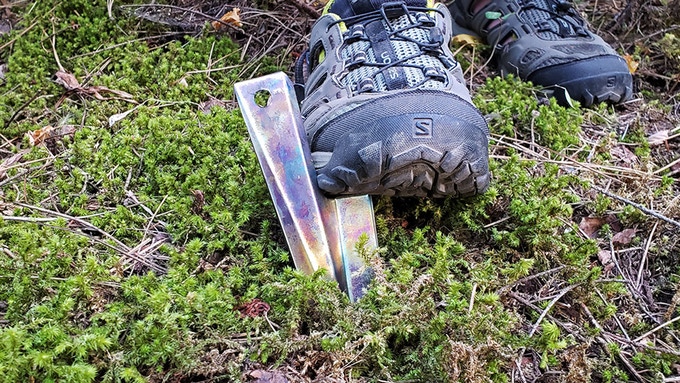 It's super strong and designed to work with your natural desire to jump up and down when you've really got to GO! No more bending over on your knees while straining to dig a hole as with other micro trowels.. that's just an accident waiting to happen in your pants.
Just stick the S.H.A.R.T under your foot and start stomping! The digging action helps you hold it longer, and it practically digs the hole for you when you really gotta go!
The S.H.A.R.T is practically impervious to even the most spastic colon stomping reflex.
The angle of the bends concentrate the force to the tip of the shovel and make it extra strong and bend resistant. Additional tabs have been added in strategic positions and bent to create even more strength and to add pressure relief in critical areas.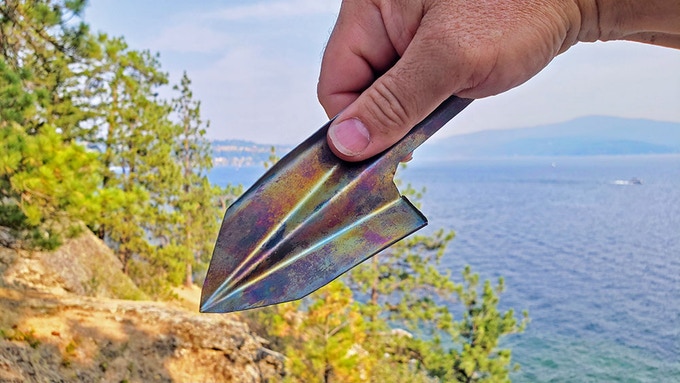 It's handle is on one side which gives you more room between the ground and your knuckles (and other yucky stuff) when you're scraping dirt back into your hole and it even has a hole in the handle so you can clip it to the outside of your pack. The final product will even have a couple of little 'V' notches in the blade designed to catch and cut through any pesky roots that might be in the way of your immediate relief.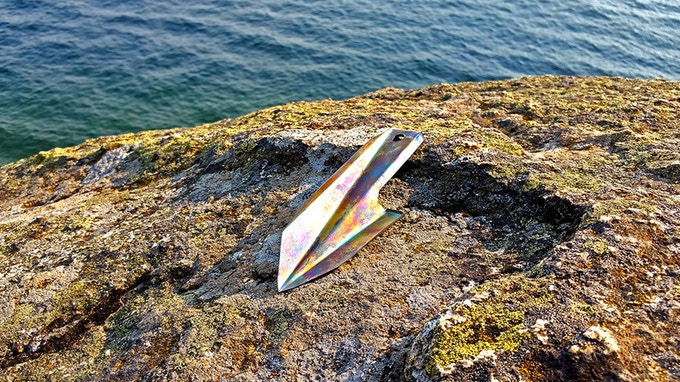 Afterwords, it's great for burying your sin. It's got big flat angles that are perfect for scraping dirt back into the hole, clearing out a spot to put your tent or to start a controlled camp fire. Its handle is strong and comfortable, and unlike other micro trowels that you see with the sharp, thin handle all duct taped up for protection, the SHART has a completely different grip position, and a flat tab on the end for the heel of your hand so that you can really bare down on it to dig in without it cutting into your hand... because nobody wants to come back from a frantic emergency movement with an unsanitary bloody stump.
HOW IT WORKS
For those that like to hold it as long as they can hoping to make it out of the woods before they have to go, but then can't, and need an extra deep hole; or for those that just like to keep a safe distance from their own organic creations, there's the 'BIG SHART' with an extra long handle. Its so long that 'normal' people can't even smell their own business when cleaning up afterwards. (you however, will probably still be able to smell something, unfortunately).